WELCOME TO Bill Hege Carpets Inc
Now is the perfect time to update your home with new floorcovering. Come in to our showroom and see all of the possibilities. Interior Designer on staff to help with your flooring needs.
Winner of the Winston-Salem Journal
Readers' Choice Award
For the Best Floor Covering Store
Four Years In A Row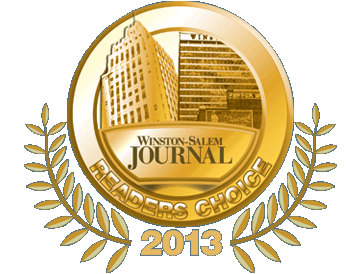 Now A Shaw Flooring Gallery Dealer !!!
Welcome to Bill Hege Carpets, Inc. We specialize in all flooring and floor coverings. Please take time to visit the links to the different products we offer.
We at Bill Hege Carpets strive to provide you with the best products and service for your money. Being an Aligned Dealer with most of the top manufactures allows for top quality products and best pricing. Professional installation is available which guaranties top service when installed and no calling to find the installer who put your carpet down 6-months ago. That is our promise from Our Family to Yours.
Signature Series Dealer Now Featuring Bliss Magic Fresh
Carpet From Beaulieu
Customer Testimonials
Richard Williams
Park West Salon


4-8-16

Very pleased. The crew was very nice. I have told many customers of mine that I had the best results. Craig was a pleasure to work with.

Angie's List Reviews


We have an A+ rating on Angie's List. Here are a couple of reviews. Please see Angie's List website for more.

We are putting our home on the market and needed a good, fairly inexpensive carpet to replace the old carpet in our house We went to several carpet stores in the area and told them what we were looking for and why. After one very rude salesperson at another company told us to go to a chain store because they don't sell "cheap carpet" and another company giving us an outrageous estimate, we finally found Bill Hege Carpets! We worked with Tim and as soon as we told him what we were looking for and why, he told us that he had just the thing!He gave us a sample of the carpet that most real estate agents use when trying to sell a house AND he gave us a very fair price! Chrissy Long 1-20-2014

My experience with Bill Hege Carpets was excellent from the product selection to the installation. I will be using Bill Hege Carpets again and I hope I get my salesman Tim again. Forget the big box stores if you value service and quality, this is where you need to go. Renee Griffith 6-14-2013

Mary and Ronald Robertson


2-12-2016

Ronnie and I totally enjoyed this experience. Tim Smith is an excellent salesman, helping us with everything. He is like someone you have always known. Our installer, Richard Shaw did a great job with the flooring and carpet. He is an extremely hard worker. We definitely will consider you for future projects and refer you to our friends.

Tricia Rubner


2-5-16

The installer, Richard did an amazing job! Everyone who sees my carpet LOVES it! I highly recommend You! Thank You!

Colleen Estey


9-22-15

I am very pleased with the service provided by Bill Hege Carpets. Tim Smith was very helpful and accommodating and very nice to work with. I will definitely be interested in doing business with Tim again. The installer, Richard did an excellent job and was very professional and nice.

Theresa Gowen


8-20-15

The installer, Richard is an absolute craftsman! Refreshing to see the work ethic and attention to detail in today's work environment! So pleased that I have already recommended Bill Hege Carpets, Tim Smith, and Richard to a friend!

Keith and Jamestris Watson
1-2-15 Please let us know if you need a referral or maybe an endorsement/commercial. We were so pleased that we would be glad to do it.
Grady James


12-16-2014

Love our floor. Great people to work with.

Ben Miller


10-30-2014

We could not be happier with the entire experience. Very refreshing to see that service, quality, and professionalism still exists!

Ben Miller

Ava Allen


10-24-2014

My floors are absolutely beautiful! Tim was great to work with in helping us with everything related to this project. I plan to send as much business as possible your way. This was a wonderful experience.

Thank You,

Ava Allen

Frank and Ronda Church


10-16-2014

Matt and Tracie were great to work with. They are very knowledgeable of their products and very customer oriented. We'll recommend!

Danny Parrish


6-19-14

This is the third home where we have had flooring replaced, and have used Bill Hege Carpets. We are always satisfied with the work and fair price. As we look to our 4th, I'm sure we will be calling Bill Hege Carpets again!

Joyce Hinshaw


July 28, 2014

Thanks for a job well done from beginning to end! A pleasure doing business with everyone involved! Have already referred two other people to Bill Hege Carpets.

Mike Tisci
I needed a bedroom carpeted in a very short time frame. Bill Hege Carpets met my needs immediately. It was done professionally and quickly. I could not be happier.
Leon and Jennifer Evans


The first time that I walked into Bill Hege Carpets, I was greeted with a smile and I felt that this was going to be the company that replaced my hardwoods and carpet. It did not take long for me to decide on what I wanted and to get everything set up. The workers were on time and ready to go to work. I knew Bill Hege Carpets had been around for years, and I was looking for a strong company. They are very professional, and I am enjoying my new flooring very much.

Thank You and God Bless You!

Thomas and Diane Nichols
This was the most pleasant experience during our remodeling. Everyone from the showroom, through the installation was great. We would recommend Bill Hege Carpets to anyone interested in new flooring. Thank You again.